The following was written April 4, 2023 by the team at Repair the Sea. 
Repair the Sea, an organization focused on protecting and supporting the marine environment, is offering Sarasota faith-based organizations the opportunity to reconsider their approach to food and fellowship.
Single-use plastic cutlery is everywhere, and most people do not give it a second thought. From fast food to high-end restaurants, schools, offices, hospitals, churches, synagogues, mosques, and temples, nearly 40 billion single-use plastic forks, knives, and spoons are sold annually in the United States. The problem is that the cutlery never goes away and usually ends up in landfills or the ocean. In landfills, the cutlery releases toxic chemicals into the soil and water, and in the ocean, the material breaks down into microplastic, which is consumed by marine life and sea birds, killing them by the hundreds of thousands each year.
In Sarasota, with the support of Charles & Margery Barancik Foundation, Repair the Sea is reaching a segment of the community not often considered when it comes to the marine environment. Repair the Sea's CEO Rabbi Ed Rosenthal shares, "There are tens of thousands of marine scientists and environmentalists across the country, but there are tens of millions of people of faith. Through education about compostable cutlery and awareness about the spiritual nature of water, we believe faith-based communities can take the lead by rethinking environmental-friendly fellowship."
The Blue Green Initiative replaces single-use cutlery with fully compostable cutlery made by VerTerra. The product is made of fallen palm leaves and scrap wood without bonding agents, lacquers, or chemicals. The cutlery decomposes in the backyard and, through the initiative, comes at no cost to faith-based organizations in Sarasota. Repair the Sea's most recent partner is The Salvation Army of Sarasota County.
Each year, Salvation Army serves 120,000 meals across the community. Until now, the organization served the meals using plastic cutlery. Rosenthal worked with Salvation Army leadership and arranged the delivery of 120,000 pieces of compostable products to the organization's downtown Sarasota location in March. Lisi Brannen, Salvation Army's Q Life Operations Manager, commented, "It is a privilege to do our part to help our precious seas and the planet overall."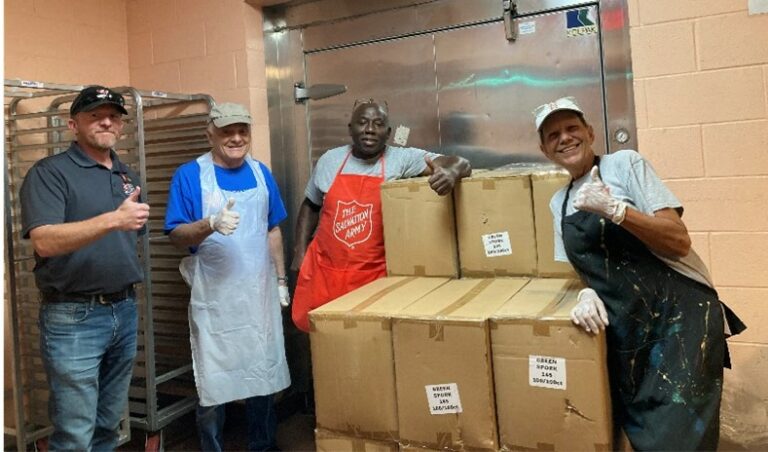 The Salvation Army team gives thumbs up following the delivery of 120,000 pieces of compostable cutlery. 
When the opportunity arose not only to do good for people in the community but also to do good for the marine environment, Salvation Army did not hesitate. "Protecting the environment can unite people of all faiths," added Rosenthal. "We commend Salvation Army for their leadership and for seeing how deep of an impact they are making. We hope Sarasota can become a model for other communities to emulate by bringing people together of any faith to protect the environment and repair the sea."
To learn more, visit repairthesea.org/bluegreen.