About Us
Our Leadership
Barancik Foundation is governed by our Board of Directors who set organization direction, provide oversight, and ensure the necessary resources for our work. These members share the philosophy and values of the Foundation: Stewardship, Integrity, and Service.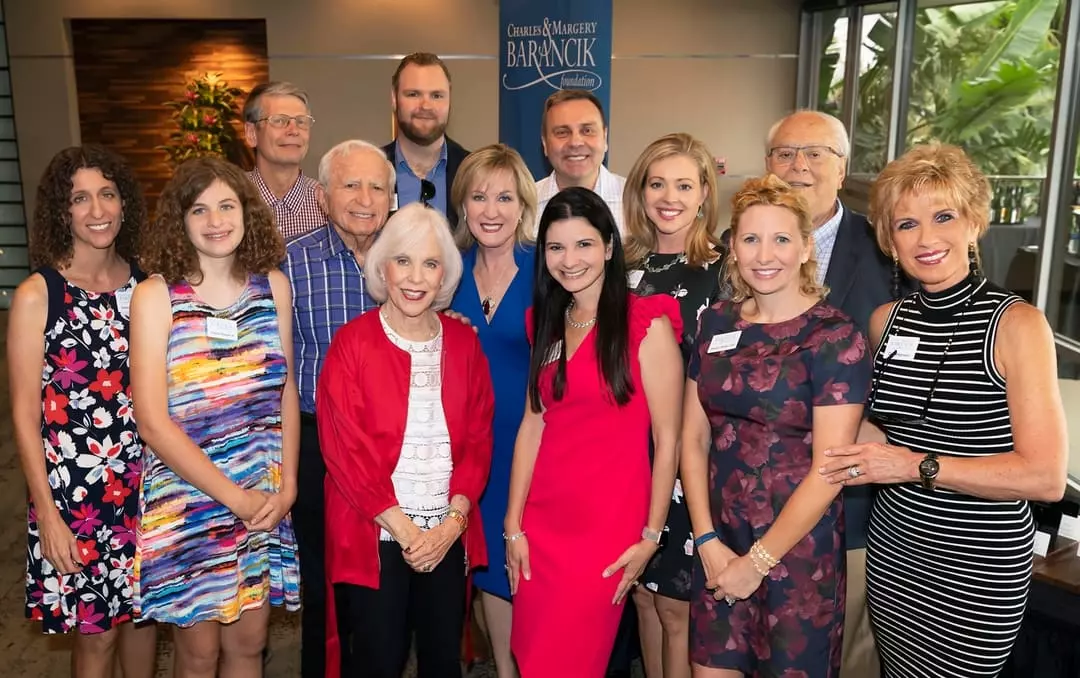 Stewardship, Integrity, and Service
Our Board of Directors is comprised of family, close friends, and leaders in the Sarasota community, all united by the goal to carry out Margie and Chuck's vision to make a meaningful difference in the lives of others. As board members, we take our founding values to heart.
We are honored to be the stewards of their philanthropy. Every day we work to ensure that its impact can be sustained over time and can bring together partnerships for greater synergies. Each member serves with integrity, putting aside personal opinions and interests to objectively support the focus areas Margie and Chuck prioritized. We also embrace the role of service to the community, which they modelled for us so well throughout their life.
Staying apprised of the needs of our community, we have met amazing leaders and heard inspiring stories of innovation and resilience. We deeply thank all of those who share and carry out Margie and Chuck's vision. As they both knew so well, all of us on the Board have discovered how much we receive when we help others.
Rebecca Harris Barancik, Chair
Rebecca Harris Barancik has been honored to be chair of the Barancik Foundation since its inception in 2014. Originally from Hartford, CT, Rebecca holds a Ph.D. in Economics from The George Washington University and a B.A. in Economics from Georgetown University. She teaches Economics at the University of South Florida St. Petersburg, where she also co-leads the Women and Leadership Initiative. Rebecca is an active lay leader and Board member of Temple Beth-El in St. Petersburg. She also serves on the Executive Board of Tampa Bay's Phi Beta Kappa Alumni Association.
Both professionally and personally, Rebecca is passionate about promoting equity, providing educational opportunities, and protecting the environment – and the interplay between and among these issues. At the Foundation, she feels fortunate to carry out Margie and Chuck's vision to help make a difference in these areas as well as many others. Rebecca lives in St. Petersburg, FL, with her husband, Scott, where they are raising one daughter and two cats.
Steve Barancik is a former screenwriter and schoolteacher. With a strong interest in the environment, and a specific interest in how our agricultural footprint impacts the planet, he and his wife, fellow board member Lisa Hise, are striving to responsibly maximize food production—for themselves and others—on a four-acre property in the Pacific Northwest. They completed together a one-year certificate program in Regenerative Organic Farming.
A graduate of Duke University with a B.A. in Economics, Steve believes strongly in the "Teach a man* to fish" approach to philanthropy and as such is a big fan of non-profits like Habitat for Humanity, Year Up, and The United Negro College Fund.
*Women and children too!
Ben Hanan is a senior partner at Shumaker Loop where his principal areas of practice include business and estate planning. He is a Certified Public Accountant whose education includes J.D., with highest honors, George Washington University, 1996; M.P.A., The University of Texas at Austin, 1993; and B.B.A., The University of Texas at Austin, 1991.
Mr. Hanan's community affiliations include being former board chair of All Faiths Food Bank, former board chair of the Sarasota County Economic Development Corporation, board chair of Bradenton Area Economic Development Corporation, former board chair of Gulf Coast Community Foundation, and founding director of IMG Academies Student-Athlete Foundation.
He and his wife, Stacy, have three adult daughters.
Lisa Hise spent 23 years as a public defender in southern Arizona. Phoenix-born, Lisa received her undergraduate degree from Arizona State University and her law degree from the University of Arizona, where she was one of the first recipients of the Paul Marcus Public Interest Fellowship. Since retiring from the law, she has worked with middle schoolers as a literacy coach and has been an animal rehab volunteer and raptor rescuer at the Tucson Wildlife Center. Lisa has also served on the board of directors of the Southwest Center for Law and Policy since its inception in 2002.
Married to Steve Barancik, Lisa is motivated by a concern for the environment, a love for wildlife (as well as her chickens!) and a desire to improve our coexistence with the planet.
Hosana Fieber is the Chief Financial Officer at Organics Management Holdings. Prior to this position, she served as Chief Financial Officer at Tervis Tumbler, and prior to that, as Chief Financial Officer for ASO, a private label bandage manufacturer in Sarasota. Hosana is from Miami, Florida, where her accounting career began. She received her bachelor's at the University of Miami, and later attended Florida State University where she earned an MBA. She was in public accounting for six years, working with manufacturing companies as well as non-profit organizations, before coming into the private sector. Hosana enjoys working on community projects, as she has been involved with organizations like Rotary club, Habitat for Humanity, and Girl Scouts.
Teri A Hansen manages the daily work of the Charles & Margery Barancik Foundation as it strives to make a difference in Sarasota and beyond. The Barancik Foundation was established by Chuck and Margie Barancik in 2014, and Teri was hired as its first employee in July 2015.
Teri has more than 25 years of experience in philanthropic leadership. Prior to joining the Barancik Foundation, she was president and CEO of Gulf Coast Community Foundation. During her 13-year tenure the foundation awarded nearly $200 million in grants and initiatives. She was vice president for gift planning and donor relations at The Cleveland Foundation, the oldest and one of the largest community foundations in the United States. She also worked as vice president of external relations for Central Indiana Community Foundation and was the founding president of Legacy Fund of Hamilton County (Indiana).
Teri volunteers her leadership across several sectors. Currently, she serves on the Ringling College of Art and Design board as its secretary, the board of Marie Selby Botanical Gardens as its vice chair, the Greater Sarasota Chamber of Commerce board as its vice chair, the board of Southwest Florida YMCA, and is a director on the board of Gulfside Bank. Her previous board leadership includes Council on Foundations and its public policy committee, chairing the Council on Foundations Community Foundation Leadership Team, chairing Community Foundations of Florida's board, serving on Florida Chamber Foundation's board and investment committee, and serving as secretary/treasurer of Florida Philanthropic Newtork's board. She was also on the Sarasota County Economic Development Corporation board and USF Sarasota-Manatee Community Leadership Council.
Teri is honored frequently for her professional and personal contributions to the community. She received the International Women's Forum "Women Who Make a Difference Award;" State College of Florida President's Award of Distinction; Tampa Bay Partnership Chair's Cup for Excellence in Regionalism; Girls Inc. of Sarasota County "She Knows Where She's Going" Award; and AJC Civic Achievement Award. Teri was named a "Best Boss" by 941CEO magazine, one of the "50 Most Powerful People on the Gulf Coast" by Gulf Coast Business Review, and to SRQ Magazine's Women in Business Leadership Circle.
A San Diego native, Teri earned her bachelor's degree in journalism from San Diego State University. Upon graduating, she served as a public affairs officer in the U.S. Air Force. Teri is an alumnus of Harvard Business School, having completed its Advanced Management Program.
Stephanie Jones is an experienced corporate recruitment and human resource professional with knowledge in healthcare and professional services, including the Big 4. She is currently the Director of Global Experienced Talent Acquisition for Duff & Phelps, the world's premier provider of governance, risk, and transparency solutions. Her volunteer work includes schools, planning committee, and county boundary committee. Stephanie graduated from University of Richmond with a degree in Speech Communications. She and her husband Gene have two grown children, Brittany and Gene.
Mike Gronli is an award winning CPA. He worked with privately-held businesses and owners for ten years at the public accounting firm of Arthur Andersen & Co., specializing in income, estate and fiduciary tax planning. He has been employed by the Barancik family since 1987, with the following areas of responsibility: income taxes; estate, trust and gift matters; liaison for the family with the management of numerous businesses; retirement plans; acquisitions and divestitures; employee benefits; insurance; investments; philanthropy; confidant and advisor. He has headed up the Barancik family office since 2000.
Early on, Deb was mostly satisfied with her employment in administrative areas of finance and education in public schools and technical colleges; in a U.S.D.A. agency's conservation/ environmental protection program; in assistance to senior executive management of a Fortune 500 company.
Then, over 37 years ago, Deb came onboard with Charles Barancik and entered the fascinating world of the streamlined Barancik organization of privately-held companies and of entrepreneurship. She has never looked back from this welcome, diverse environment!
In 2014, again rewarding work evolved with the activation of the Charles and Margery Barancik Foundation. Deb's early years set the desire to help others whenever possible. As a Board Director, she is honored to be a part of the Foundation as it works to help those in need and to fulfill its mission to make a difference in Sarasota and beyond.
After a 35-year career with Sarasota County Schools, Laura Kingsley retired from her position as assistant superintendent and chief academic officer in 2021. She began her career with the district in 1986 as a teacher at Booker Elementary School for High Expectations, which later became a part of Emma E. Booker Elementary. She also served as an assistant principal at Emma E. Booker and Laurel Nokomis and as principal at Fruitville Elementary.
"Sound strategic planning, along with substantial investment in R&D and new product innovation, establishes our companies as leaders."
– Chuck Barancik