Five Sarasota County educators were recently named 2023 Ripple Effect Award winners by Charles & Margery Barancik Foundation and Sarasota County Schools.  Each award — which recognizes teachers for their impact on their students, schools, and community — came with a $5,000 check from Barancik Foundation.
The Ripple Effect Awards program honors the chosen profession of Margie Barancik, who was a teacher and lifelong supporter of education.  Awards are presented to five Sarasota County Schools teachers twice a year, in September and May, to mark the respective birthdays of Margie and Chuck Barancik.
Recipients of the fall 2023 Ripple Effect Award were:
Elizabeth Donofrio, Venice High School
Kim Hunt, Venice Elementary School
J. Ivey, Sarasota High School
Marjie Smith, Sarasota Middle School
Robert Whipple, Triad Alternative School
Click through the photo carousel below to see our winners during their surprise award presentations: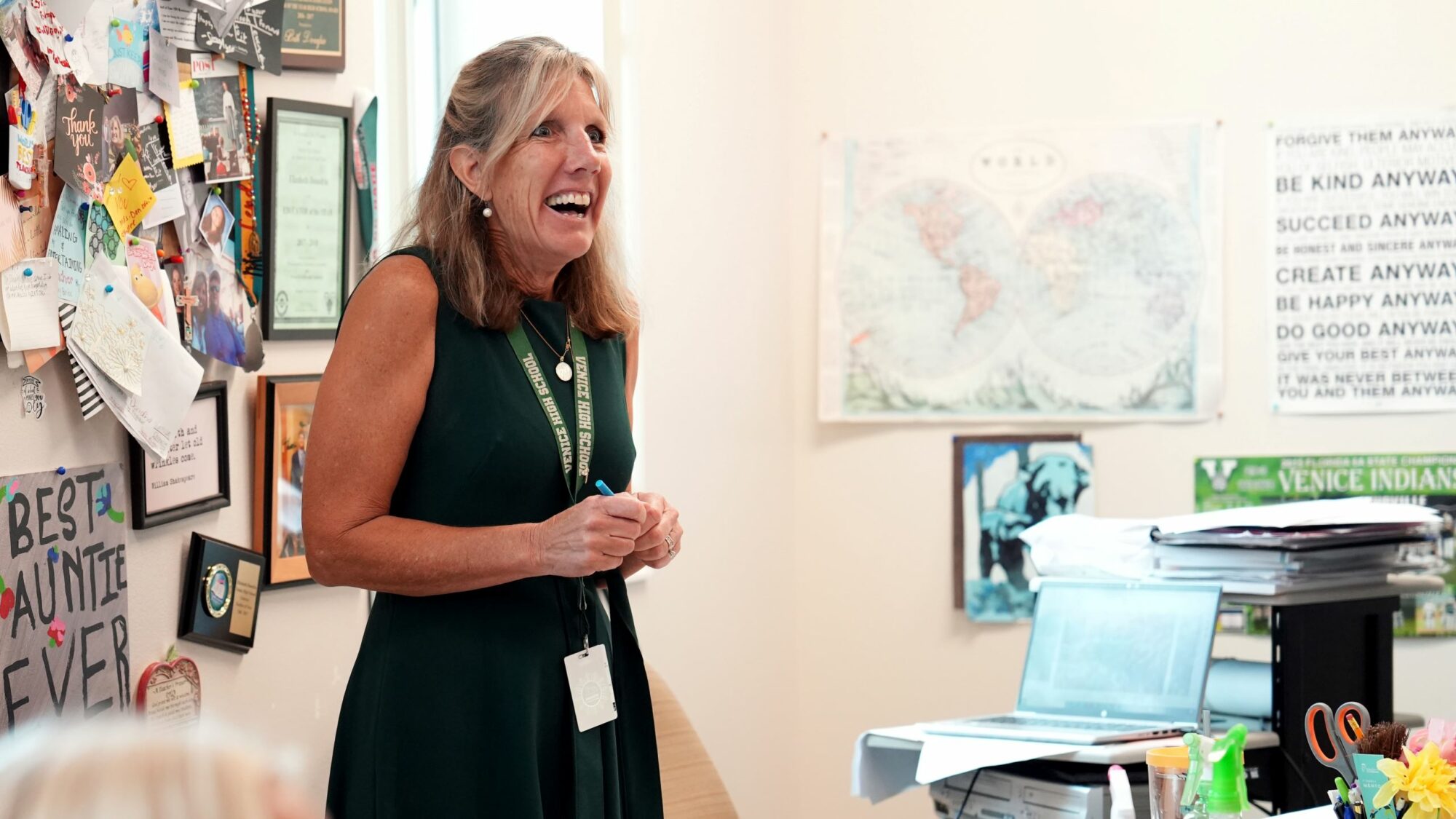 Elizabeth Donofrio of Venice High School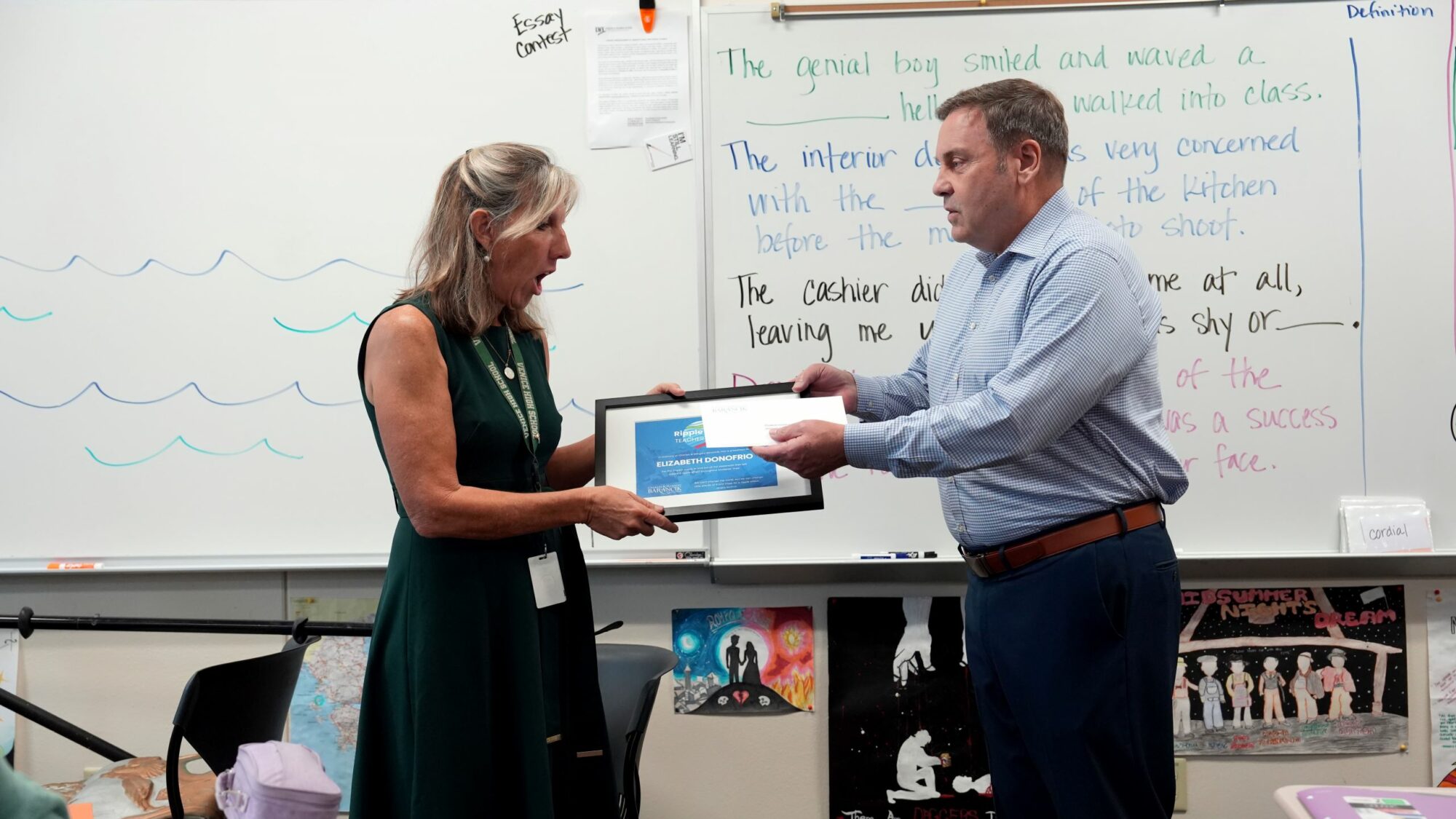 Elizabeth Donofrio of Venice High School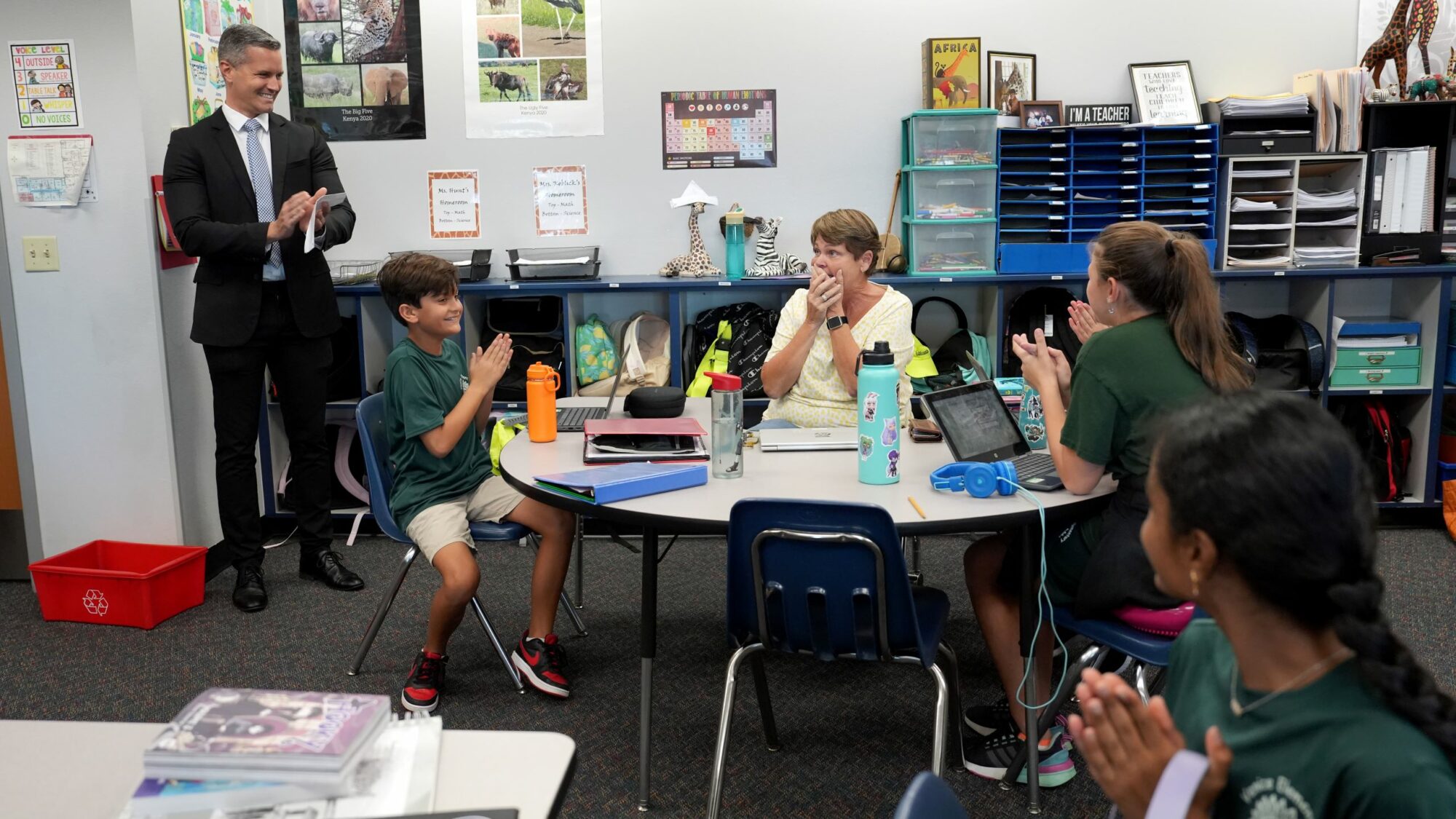 Kim Hunt of Venice Elementary School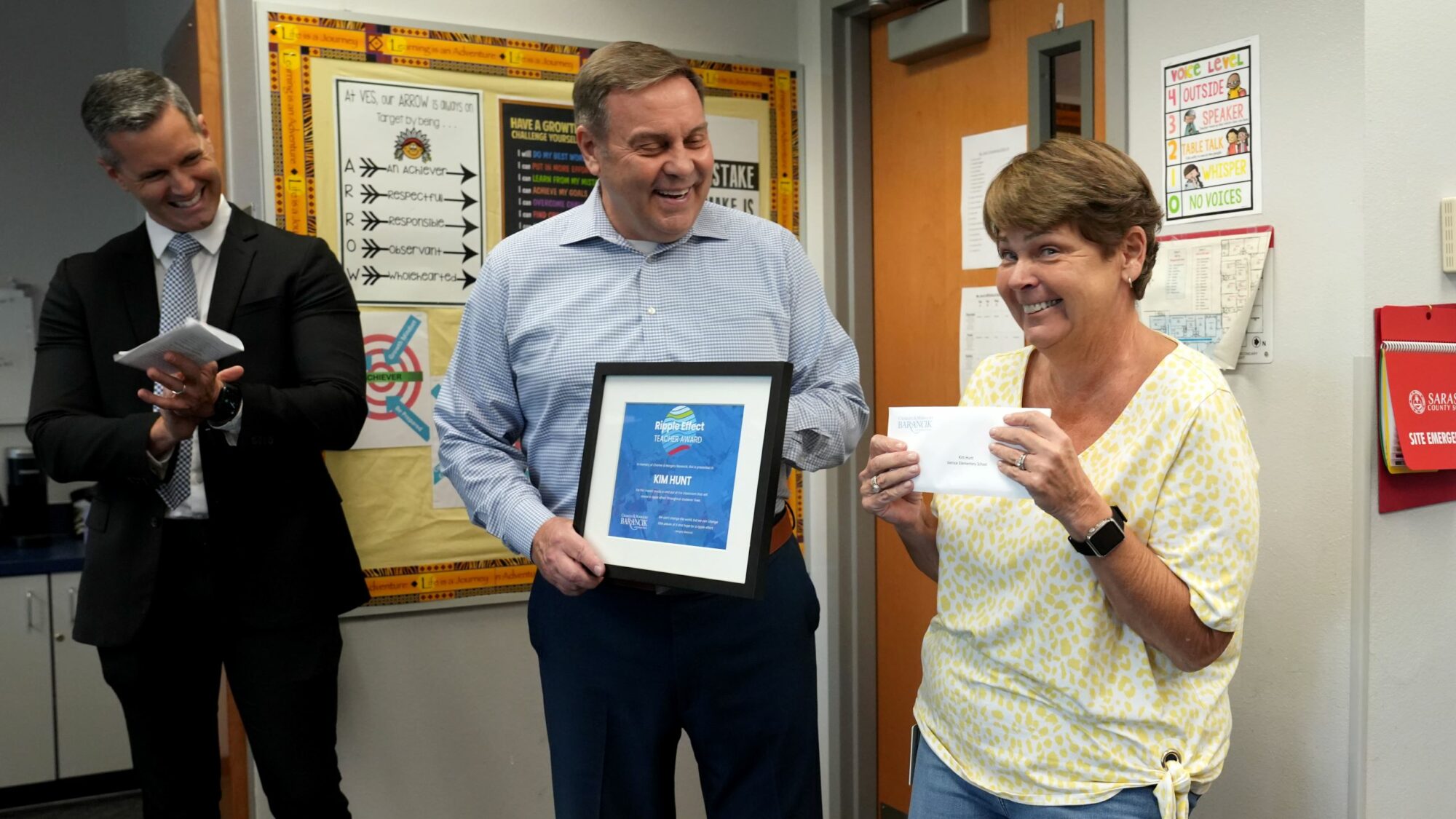 Kim Hunt of Venice Elementary School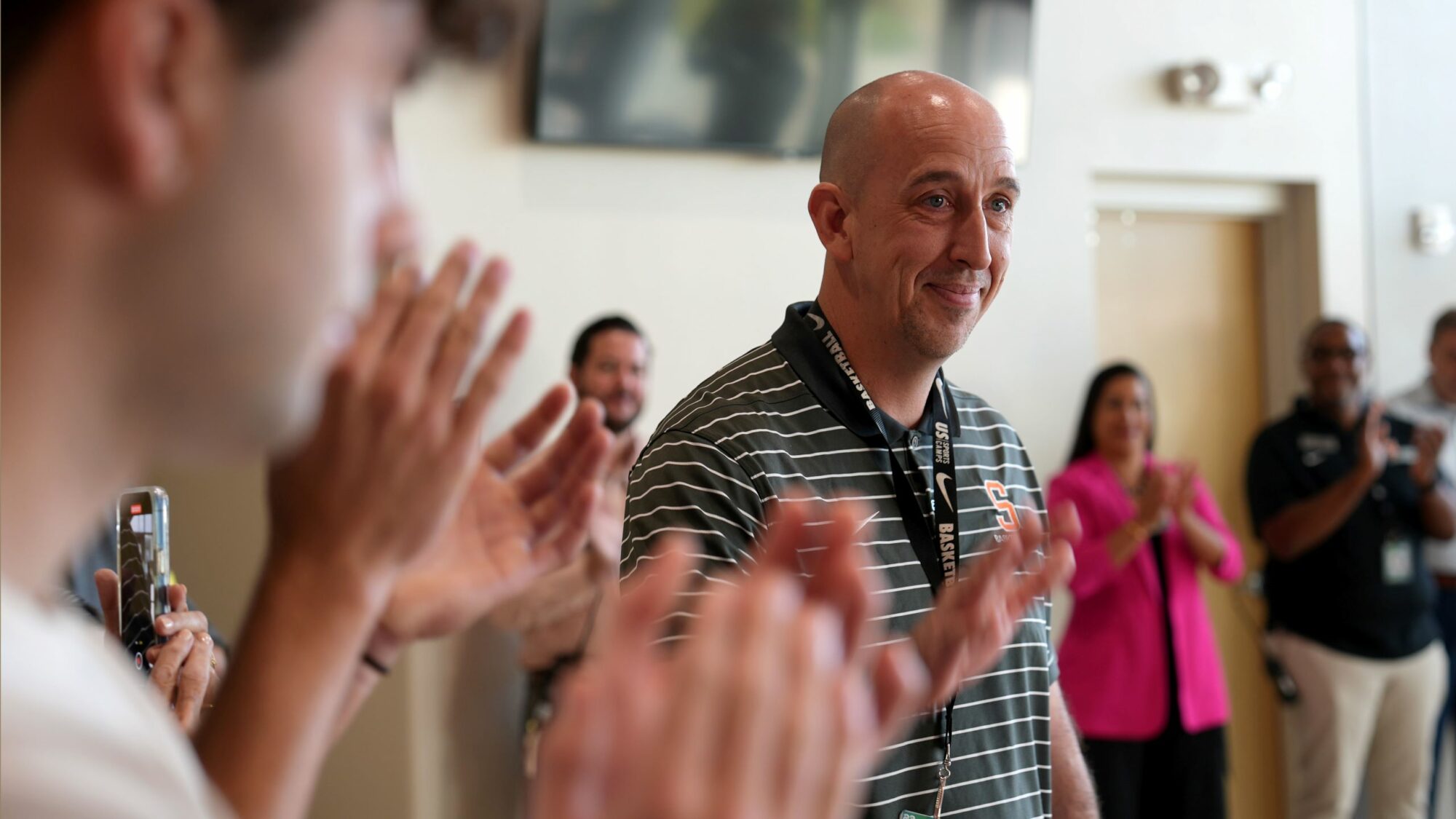 BJ Ivey of Sarasota High School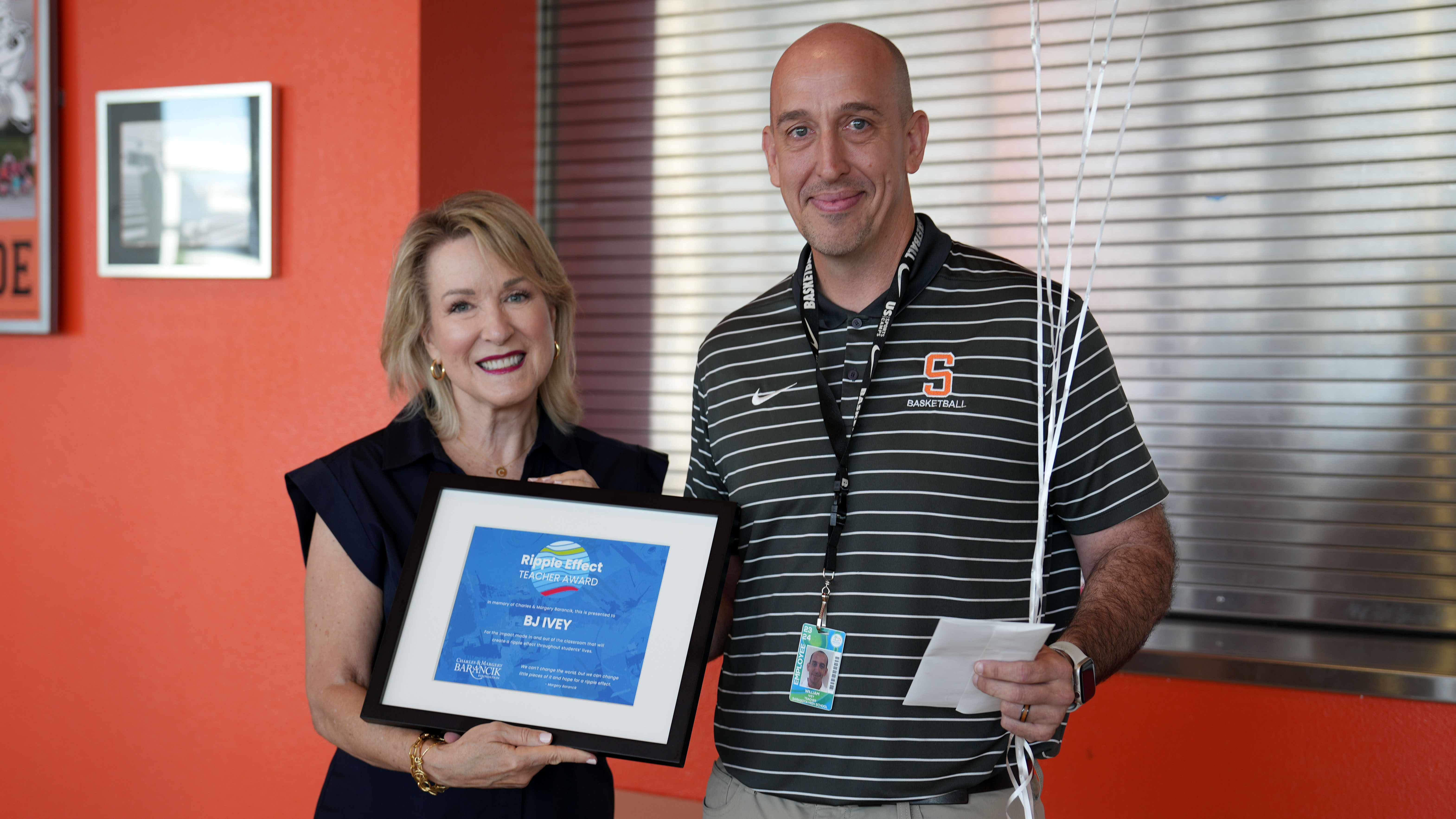 BJ Ivey of Sarasota High School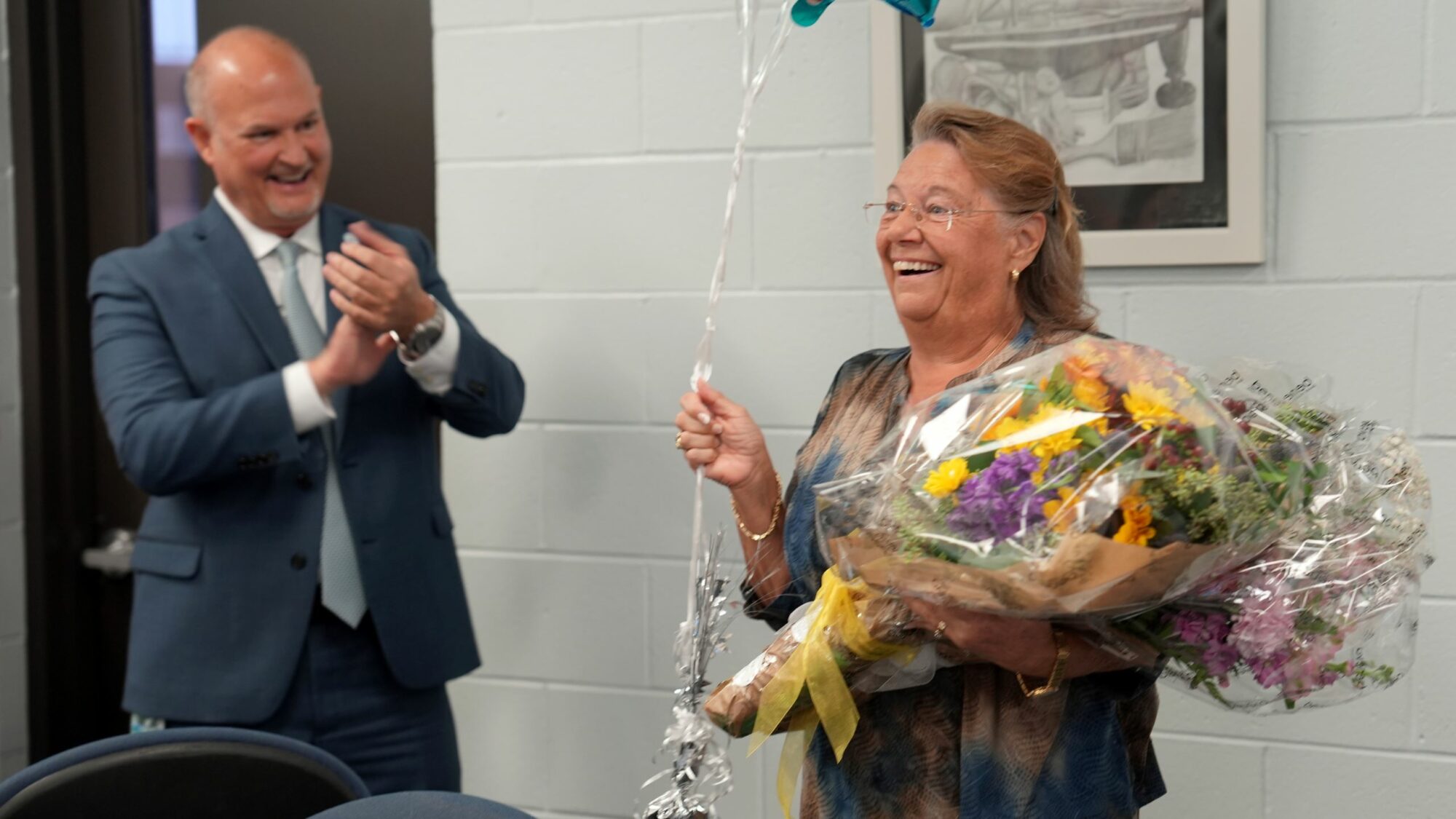 Marjie Smith of Sarasota Middle School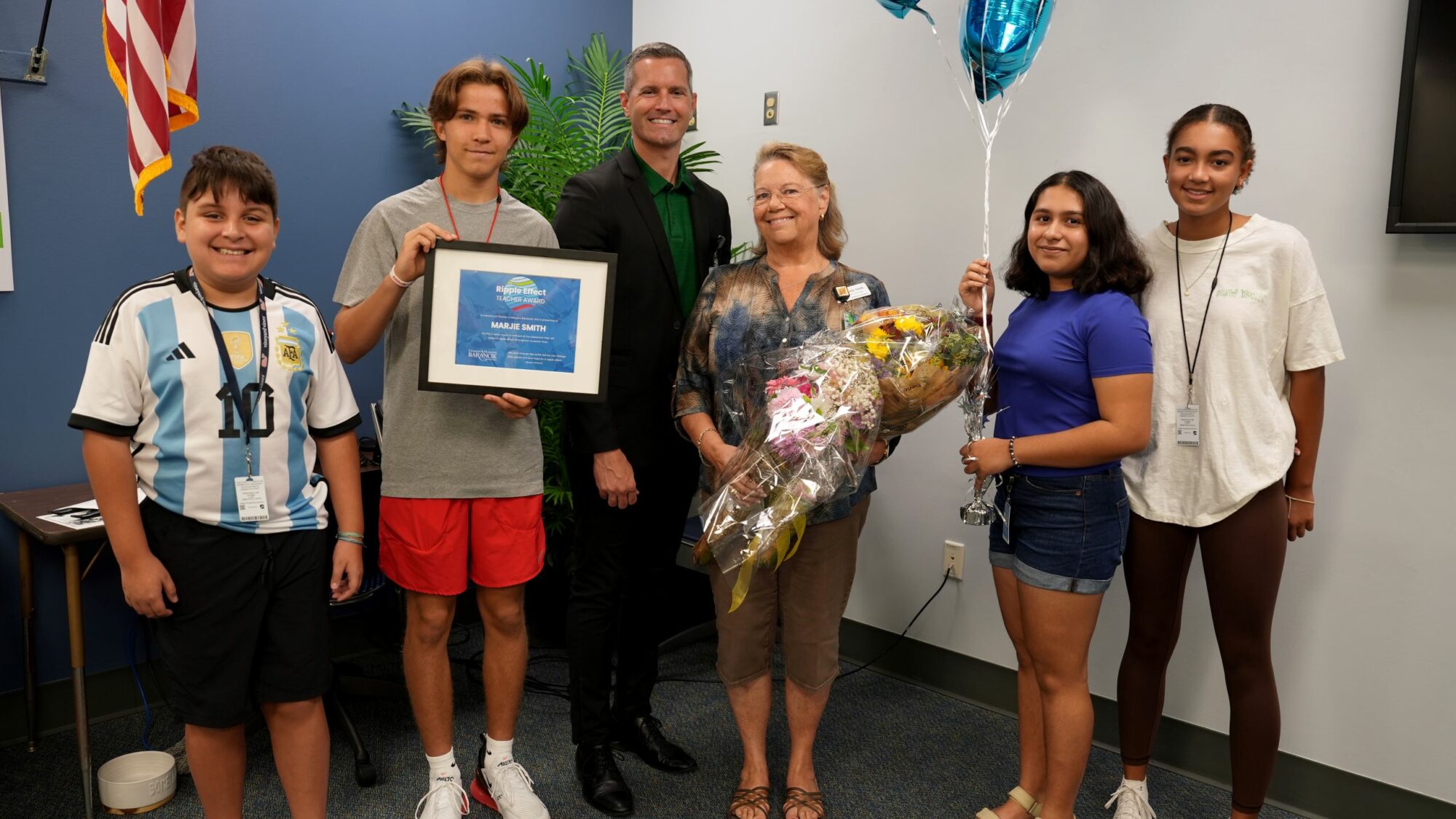 Marjie Smith of Sarasota Middle School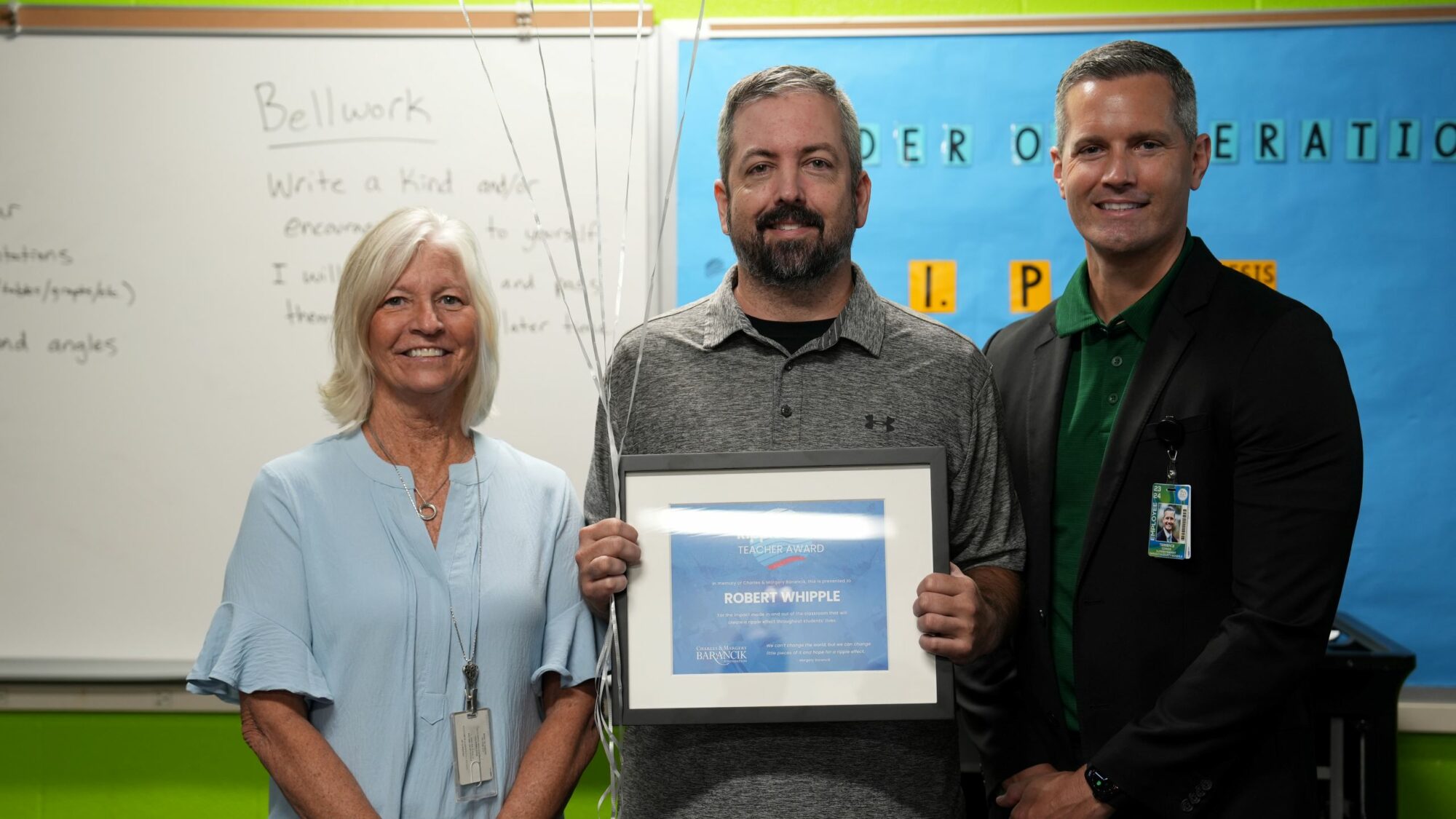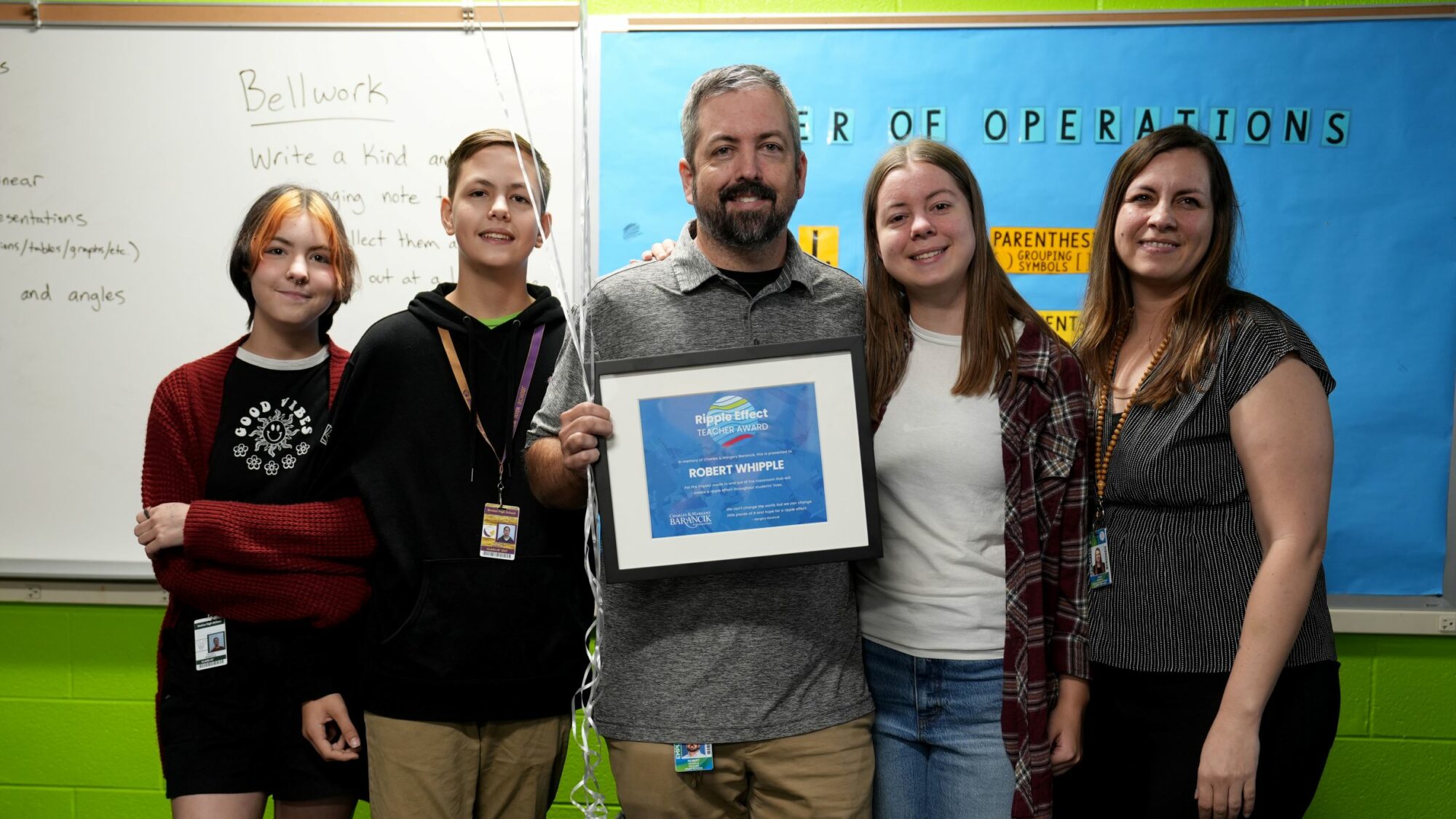 Robert Whipple of Triad Alternative School
Each winner was surprised at their school with the award presentation by school district executive leadership, Barancik Foundation staff, school colleagues, and appreciative students.  Superintendent Terry Connor read the nomination letter submitted by each winner's principal, while award certificates and checks were presented by Barancik Foundation President/CEO Teri A Hansen and Senior Vice President John Annis.
"Margie Barancik understood the positive ripple effect that great teachers have throughout the lives of their students," said Hansen.  "These Ripple Effect Award winners deserve to be recognized and celebrated.  Our community is immeasurably better because of their dedication, professionalism, and hard work."
"All of our teachers go above and beyond to support their students," said Terry Connor, Superintendent of Schools. "It is an honor to celebrate them, especially our latest Ripple Effect Award winners. Their impact is undeniable and reflected in the lives of every student they teach. We are grateful that these teachers are a part of our Sarasota County Schools family."
The Ripple Effect Award program was launched in 2021 and invites Sarasota County School District principals to nominate one educator from their school who sets the bar for innovation and creates lasting impacts on their students and peers.  To date, Barancik Foundation has presented 30 Ripple Effect Awards.