The following story, written by Mary Shedden, was published by WUSF Public Media on February 2, 2023.
WUSF Public Media has hired a longtime Florida journalist to head up an independent journalism collaboration that will expand news coverage in Sarasota, Manatee and DeSoto counties.
Eric Garwood has served as managing editor of the Observer Media Group in Sarasota the past six years. He will oversee a team of reporters for the Community News Collaborative — or CNC — a project launched with nearly $600,000 in support from the Charles & Margery Barancik Foundation.
The CNC news team, based in Sarasota, will produce journalism for more than a dozen news partners representing newspapers, radio and television stations and magazines across the region.
"I am honored to join this wonderful group of journalists on this project," said Garwood, who prior to arriving in Sarasota spent more than two decades reporting and editing for Florida Today, a Gannett newspaper based in Melbourne. "Intentional, focused coverage of news at the local level helps keep our community informed and engaged in the democratic process."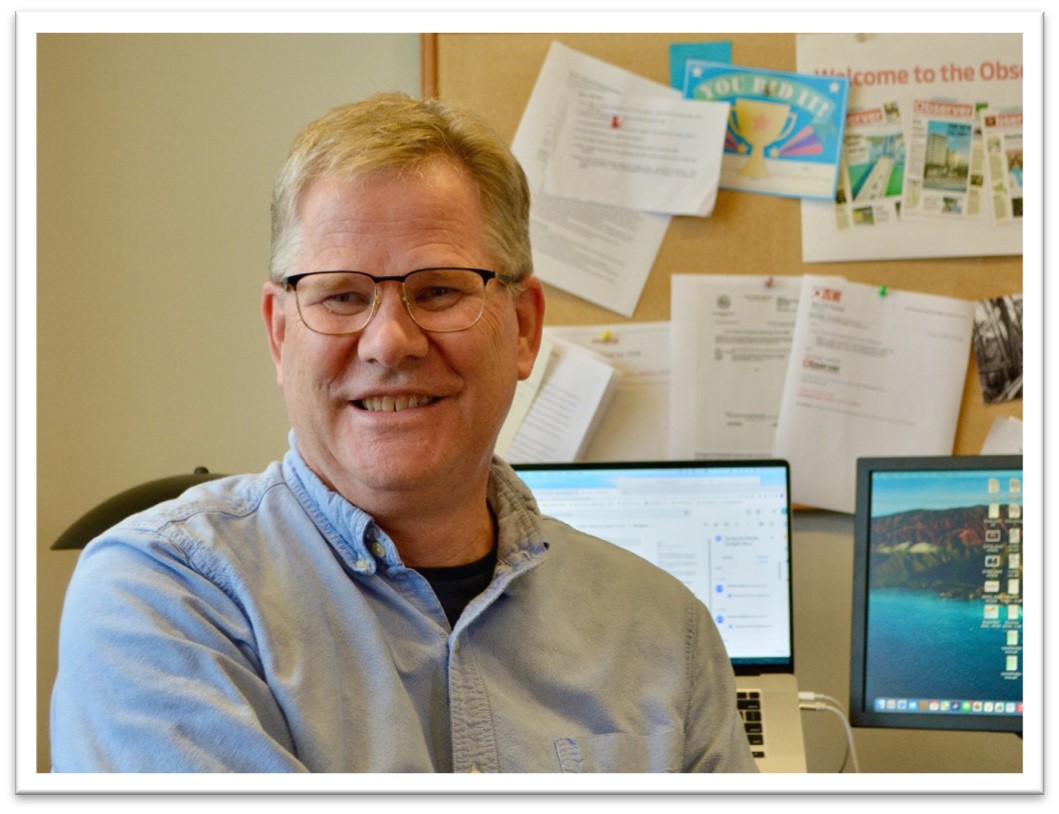 Barancik Foundation and WUSF designed the collaborative to provide more news coverage to the region at a time when newsroom staffs are shrinking.
"Our CNC journalists will cover areas that include grassroots school news, health trends, environmental stories and many more," WUSF general manager JoAnn Urofsky said. "Together, these efforts seek to make Southwest Florida a better place to live, work and raise a family. We are thrilled for Eric to join and lead this wonderful group."
In addition to WUSF Public Media, collaborative partners at this time also include: the Sarasota Herald-Tribune, Observer Media Group, Venice Gondolier/The Daily Sun, Bradenton Herald, Tempo News, WWSB-TV (ABC7), WEDU Public Media, WSLR-FM, Solmart Media, iHeart Radio, Sarasota Magazine, Sarasota Scene Magazine and West Coast Woman.
"Every day that goes by, traditional media continues to shrink and has not found a bottom. There are places in the United States that have become news deserts — communities with no entity to tell people what's going on in their backyard," Barancik Foundation's president and CEO Teri A Hansen said in a statement. "Studies have shown that creates less responsive governments, leads to less civic engagement and, in some cases, actually leads to a higher cost of living."
To ensure the project's commitment to strong community journalism, Garwood will receive support from advisors including Tim Clarke, a longtime advertising executive and chairman of Sarasota's Gulfside Bank; William L. "Bill" McComb, former CEO of Fifth & Pacific Companies Inc. and a founding board member of The Marshall Project; and Maria Vesperi, a professor of anthropology at New College of Florida, a former reporter at the Tampa Bay Times and member of the board of the Poynter Institute for Media Studies, which owns the Times.