The following article was published by William G. and Marie Selby Foundation on March 28, 2023.
The William G. and Marie Selby Foundation wants its grantees and potential grantees to receive the resources and support they need to continue building a strong community together.
A significant part of a nonprofit's success story is its financial stability.
We recently spoke with Ev Bosque, Chief Financial Officer and Treasurer for the Charles and Margery Barancik Foundation (Barancik), to discuss his work with local charitable organizations, his observations about the field, and suggestions for nonprofits trying to shore up their fiscal health. His advice and perspectives are excellent for any nonprofit considering a capital grant proposal from the Selby Foundation.
Ev came to the Barancik Foundation from a 31-year corporate background, working with both small and large companies. In addition to his role as CFO of the Foundation, he supports nonprofits before and after they receive grants to help them with personalized strategies and ideas to build financial strength.
Here are some highlights of our conversation.
Providing Financial Support to Grantees
Since he arrived at Barancik, Ev has helped grantees with all sorts of projects like coaching them with financial management best practices, helping them find accounting staff, or fielding questions about budgets, etc.  And as part of Barancik's grant process, he helps potential grantees complete their grant applications.  He collaborates with the Barancik grants team to review the financial situation of each potential grantee and to determine how grant funds will be used.  Although not a complete financial review most of Ev's nonprofit-focused work is centered on asking good questions and to learn more about the health and sustainability of organizations.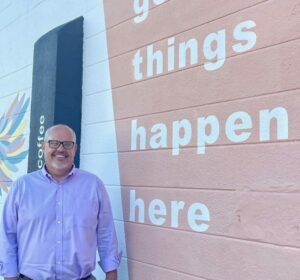 First and foremost, he wants organizations to have confidence that Barancik wants them to be successful. This is consistent with William G. and Marie Selby Foundation's philosophy as well.  Some of the things he focuses on include:
Does the nonprofit have the resources to carry out its work without programmatic or operational shortfalls?
Are there identifiable signals about the long-term sustainability of the organization,  and how can it work toward overcoming these barriers with help from others?
If the nonprofit does not have a strong financial track record because of its small size or grassroots operations, is it still filling an essential niche in the community and providing gains for people?
Recommendations for nonprofits
It is important that nonprofits pay their staff properly to ensure the sustainability of the organization and because it's the right thing to do. Competitive and livable wages are essential.
If the goal is to grow programs or their reach, scale growth in a way that ensures long term financial viability. Maintaining the current programmatic levels is more important than putting all charitable work in jeopardy.
If possible, seek to build financial reserves and endowments to provide reassurance that the nonprofit will be healthy long term.
Be prepared to help others interpret the financials correctly. For example, a financial snapshot that shows expenses exceeding revenue in an "off year" is not alarming unless there is a larger story that predicts success will decline in other areas.
Diversify revenue sources to prevent one circumstance from disrupting program and operational success.
The business sector's understanding of nonprofits
When asked what the business sector can get wrong about nonprofits, Ev believes that corporate America doesn't always fully understand the depth and breadth of the important work nonprofits carry out.
This includes what is happening in our communities, how bad things can be for vulnerable people, and how good things can be with the work of charitable organizations.
He added, "Adjusting to a frame of mind in which there is no profit motive, but the driver is doing good—that's a change," said Ev. "It's the difference between squeezing every dollar from a transaction versus getting every piece of good possible."
Biggest revelation about the nonprofit sector, coming from the corporate sector
The amount of talent in nonprofits—"seeing that nonprofit staff often have an equal level of passion for the work and competence"—was an awakening Ev experienced as he transitioned from his corporate background.
He commented on the profound ways in which nonprofit colleagues openly share and exchange information that leads to greater good.
Coming from a space in which knowledge was unshared currency, the nonprofit model of collaboration and cooperation is different, refreshing and noteworthy.
On working in his role
"I thought I was coming in to do numbers," said Ev, "but it ended up being so much more.  I really love being part of the mission at Barancik."
"The opportunity to do financial analysis to help small entities is so rewarding as an employee."
The Selby Foundation team looks forward to continued connections with professionals like Ev, the Barancik Foundation, and other foundation partners that support local nonprofits with resources based on what they most need for continued success.